"We conclude that, in the field of public education, the doctrine of "separate but equal" has no place. Separate educational facilities are inherently unequal. Brown v. Board of Education (1954)"
"We conclude that, in the field of public education, the doctrine of

"pay for performance"

has no place. Pay for performance is inherently corrupting and exploits public school children for the financial benefit of adults."
Pay for performance tied to student test scores should have no place in the field of public education.
I have voted against pay for performance. I will continue to vote against it for reasons that are obvious:
It is a part of the corporate education reform model to privatize public education.

It exploits children.

It corrupts adults.

It promotes cheating for dollars.

It creates competition - not collaboration.

It places a dollar sign on student test success.

It does not work in public education.
The primary motivation for the cheating schemes of adults in Atlanta Public Schools was to obtain pay incentives all the way up to the Superintendent.
Research

has suggested that pay for performance does little or nothing to improve student achievement.
The Debate over Teacher Merit Pay: A Freakonomics Quorum - Click Here
"There's just one problem:

educators almost universally hate merit pay

, and have been adamantly opposed to it from day one. Simply, teachers say merit pay won't work.
"In the last year, there's been some pretty damning evidence proving them right; research showing that merit pay, in a variety of shapes and sizes, fails to raise student performance. In the worst of cases, such as the scandal in Atlanta, it's contributed to flat-out cheating on the part of teachers and administrators. So, are we surprised that educators don't respond to monetary incentives? Is that even the right conclusion to draw?
http://carlaranger.blogspot.com/search?q=freakonomics
Pay for performance in public education (K-12) appears to result in a corrupting benefit for a few adults - but does little for the success of all children.
------------------------------------------------------------------------------------------------------------------------------------
http://www.cnn.com/2013/04/02/justice/georgia-cheating-scandal
updated 10:00 AM EDT, Wed April 3, 2013

(CNN) -- The former superintendent of Atlanta Public Schools was among the educators who surrendered to authorities Tuesday after being indicted by a grand jury in a cheating scandal that rocked the district and drew national attention.
Beverly Hall resigned from her position in 2011 after a state investigation into large, unexplained test score gains in some Atlanta schools. She has denied any role in the cheating scandal.
A Fulton County grand jury last week indicted 35 educators from the district, including principals, teachers and testing coordinators. They were ordered to turn themselves in by Tuesday, District Attorney Paul Howard said.

By 10:00 p.m., 27 of 35 educators had turned themselves in at the Fulton County Jail to face charges including racketeering, theft by taking and making false statements about their roles in an alleged plot to falsify students' standardized tests. Eight of them had been released on bond late Tuesday, the Fulton County Sheriff's office said.
In 2009, Hall was named the National Superintendent of the Year by the Schools Superintendents Association, which at the time said her "leadership has turned Atlanta into a model of urban school reform."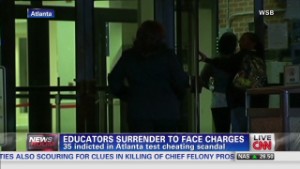 Cheating scandal hits Atlanta schools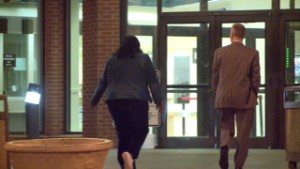 First indicted educator turns self in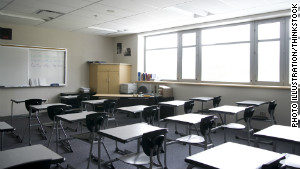 35 employees indicted in cheating scandal
But the indictment paints another picture of Hall, one of a superintendent with "a single-minded purpose, and that is to cheat," Howard told reporters last week.
According to the indictment, Hall placed unreasonable goals on educators and "protected and rewarded those who achieved targets by cheating." It also alleges she fired principals who failed to achieve goals and "ignored suspicious" test score gains throughout the school system.
Her bond was reduced from $7.5 million to $200,000, the Fulton County Sheriff's office reported.